Adding Promos
Learn the basics of managing your marketing and promotional messages with promos.
The "promo" is a calendar event that records all details related to your marketing and promotional activities for a given time frame. PromoPrep customers use promos to track a range of messaging types including:
1. Online Marketing: website offers, email marketing, SMS, content marketing, earned social media posts, influencer or affiliate marketing, and paid advertising campaigns
2. Offline Marketing: PR, print advertising, direct mail, television, radio, out-of-home (OOH), and experiential
3. Product or Services: new arrivals, discounting, sales pricing changes, merchandising plans, product bundling, and sampling strategy
4. Brand Campaigns: key brand stories, co-branded collaborations, and partnership marketing
A promo's flexibility in supporting diverse messaging types allows for companies to house all communications in a single calendar location.
This consolidated view of past or upcoming plans is critical to aligning across teams, many of whom are often otherwise siloed such as Digital, Product, Merchandising, Sales, Affiliate or OTAs, Stores, Creative, Brand Marketing, or Executives.
Features like promo filter groups and permissions can be used to accommodate multiple teams, each with differing plans or level of visibility requirements, in PromoPrep.
Adding New Promos Manually
To create a promo, click the + button on your calendar to open the promo form:

 Tip

Do you have a lot of promos to add to your marketing calendar? Learn how to bulk upload promos quickly and easily.
The promo form has fields available to add details about your promos. Five fields are required to save your promo including promo name, start/end date and start/end time.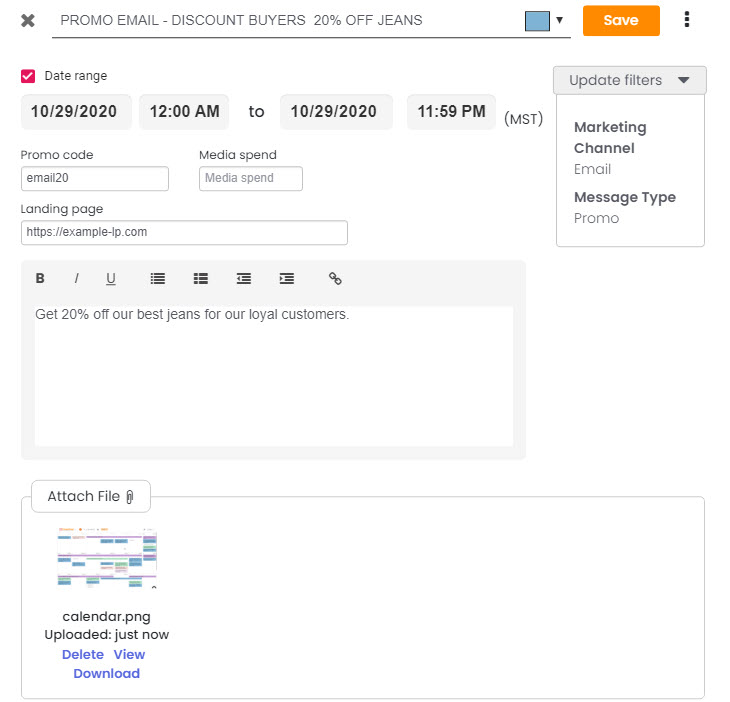 Tip

Form fields can be added and customized based on your needs. Read more about Custom Form Fields in the Help Center.
Assign Promo Filter Groups
Promo filter groups allow you to organize and filter your promos anyway you like. At least one selection in the Channels filter group must be selected. There are four promo filter groups available so you can categorize filters to meet your company's needs.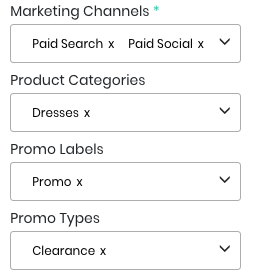 Tip

Promo filter groups can be updated and customized to fit your business. Plus, permissions can be used to keep users from seeing promos in certain filter groups. Learn more about Promo Filter Groups.
Change Promo Colors
You can manually change the color of each promo with the color selector found next to the promo name field. However, a better way to control colors is with color rules. Learn how to set color rules.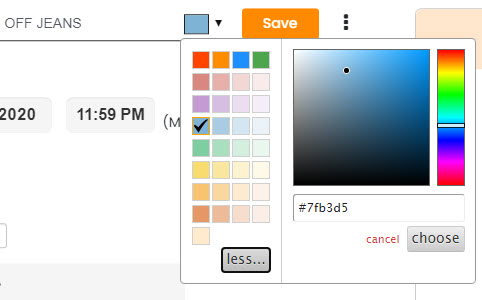 You can also set up color rules to auto assign colors anyway you like. Learn more here.
Adding Promo Descriptions
The promo description field is a free form area to capture details about the promo to share with your team. You can format this section as needed and add links to other documents or third party systems like Basecamp or other project management tools.

Attaching Files to Promos
You can attach creative briefs, promo messaging or creative asset like website banners, images for ads and email content to each promo record.
Uploading files to your promo keeps everything organized so your team has a central place to find all assets. Files can be viewed or downloaded by your or your team for easy sharing of assets.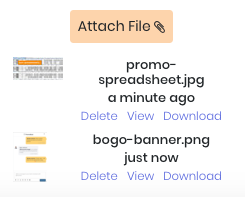 File uploads are limited to 10Mb each and the following file types can be accepted: zip, jpg, jpeg, png, gif, .pdf, .doc, .csv, .xls, .xlsx, .txt, .mp4 and .html
Best Practices for Promo Details
Consider the following best practices when adding promo details:
1. Establish naming conventions and maintain consistency in using these. For example, use either "buy one get one" or "BOGO" to enable searches on this later.
2. If a promo shares all the same details across Filter Group(s), create one promo record to reduce clutter in the calendar and ensure stakeholders across departments maintain messaging consistency.
3. Keep all communications consolidated at the promo level, for quick access and future reference. Use links in the description field for external communications or resources related to the promo, such as a project management tool thread. Attach any documentation or assets related to the promo for reference. And limit communications over email with the use of PromoBuzz!