Creating Attributes & Using Attribute Filters
Attributes are used to organize marketing activities and change calendar views using filters. They are organized into groups and are fully customizable for your business.
Attributes can be assigned to an individual marketing activity, to group promos into similar content themes and refine your calendar view. Promos can be assigned to one or more attribute groups to better organize your calendar.
Add unlimited groups and attributes to match your promo structure.
Using Attributes
When you add a new marketing activity, attributes can be assigned to the activity.
Every business is different and attributes can be set up however you need to manage marketing activities. Here are examples of how different types of businesses use groups to organize attributes: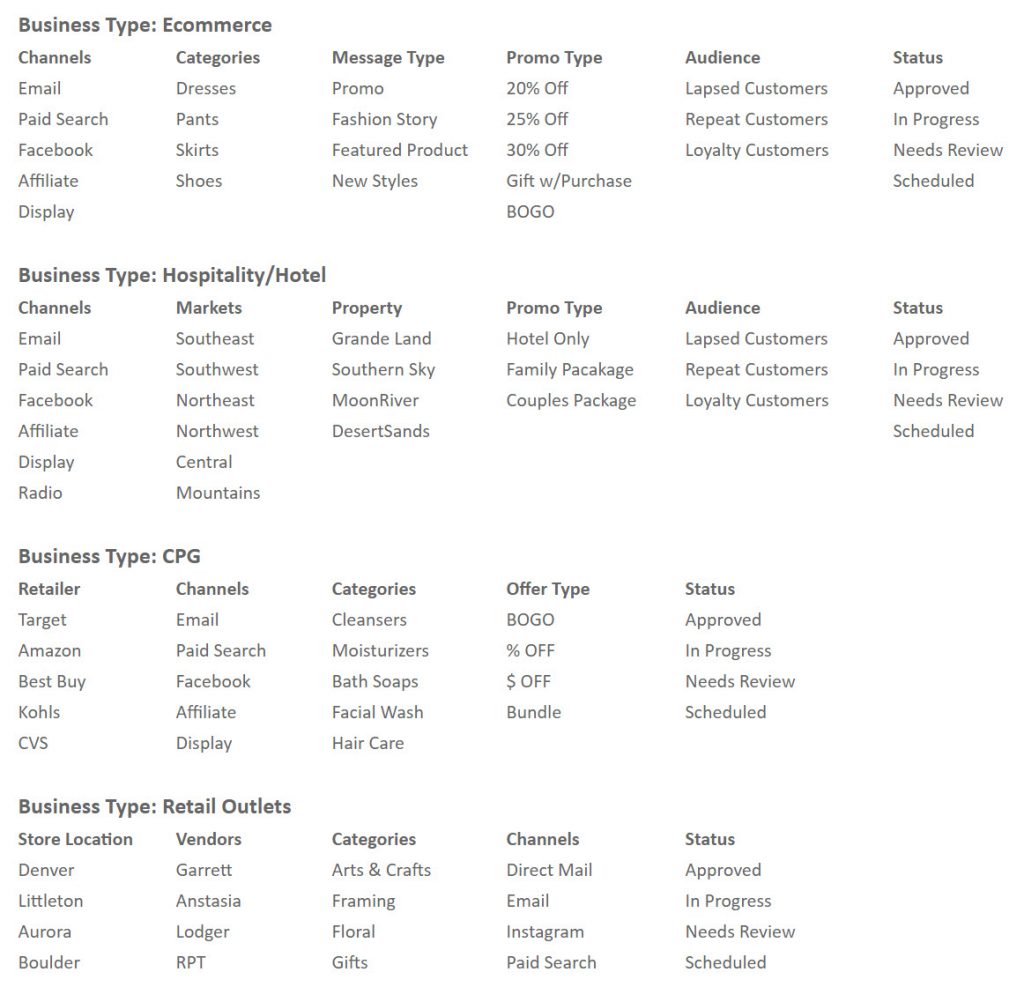 Attributes are assigned when an activity is create to categorize the type of activity: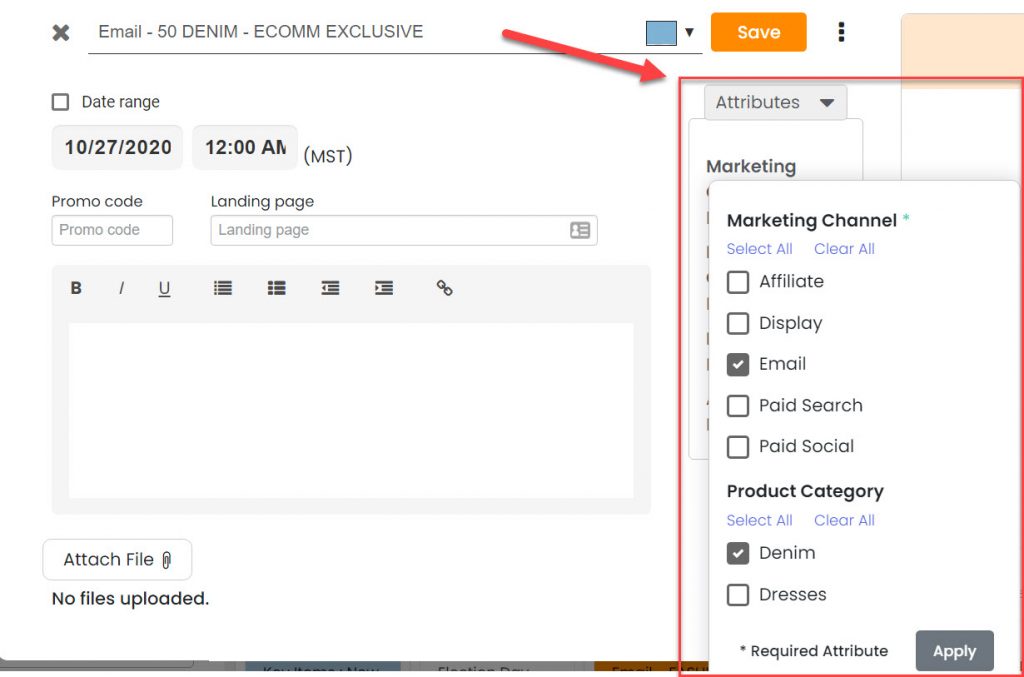 You can change the view of your calendar using attributes as filters. This gives you control of what you see on your calendar.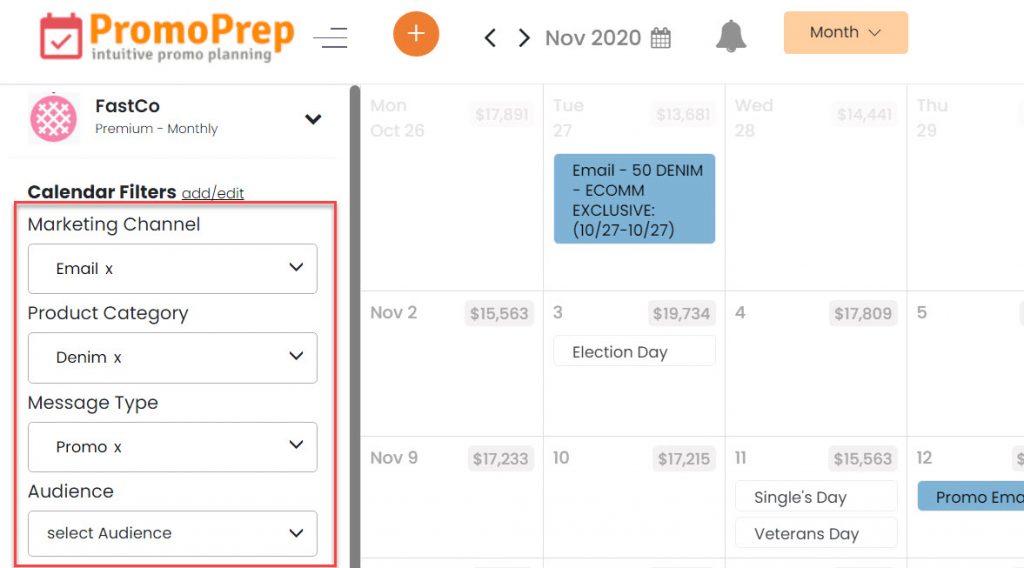 Creating Attributes
Attributes can be created during or after account setup.
If you'd like to add or change attributes once an account has been created, visit the "Attributes" tab. This tab can be accessed in the menu under Account Setup, or by clicking the edit button next to the Filter in the calendar or list view.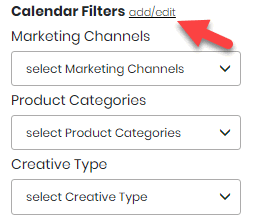 Once on the Attributes tab, groups and attributes can be added, removed or edited.
To add a new group, select "Add New Attribute Group".
Fll in the name of the attribute group and click Save

After an attribute group has been added, you can create attributes within the group in the Add Attribute field. You can add as many filter options as needed within the group.

Attributes within a group can be edited using the pencil icon or removed by clicking the X icon, both located in the corresponding filter box.
Re-ordering Attribute Groups
Attribute groups can be re-ordered to control how they appear on your promo form and in the calendar or list view. To re-order attribute groups, click the up and down arrows to change positions.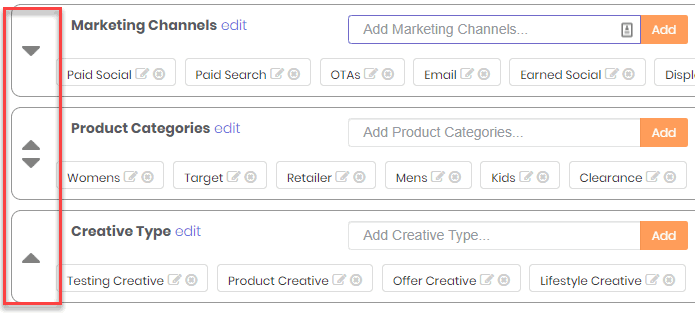 Updating Permissions for Attributes
You can control access to attributes at the individual user level. Changes to user permissions are available for Promo Managers, Collaborators and Viewer user types; Admin users have access to all activities by default.
For instance, if you have users that do not need to see activiites for a certain location, you can limit access to those locations by removing permissions. In this example, if you have an attribute group for locations like Denver, Seattle, San Diego and Cabo, you can grant access by location.
Click "Assign User Permissions" on the filter group to view or change the filter permissions:

Select the buttons to turn on or off permissions for each users' access to a specific attributes within the group: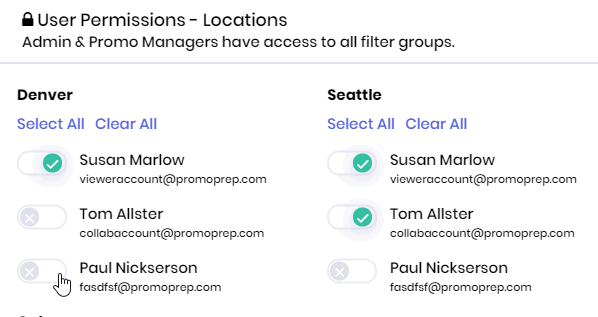 Deleting Attribute Groups
Attributes and their corresponding attribute groups can be deleted if they are no longer being used. Once attribute groups are deleted they will also be removed from any promo records in which they were in use, so exercise caution when deleting attribute groups.