List View
See all promos and their corresponding details, in an easy to read list format.
The list view is accessible by clicking the carrot icon on the calendar button at the top of your screen, and selecting List from the dropdown.

Promos returned within the list view will show all details within the promo record, and can be directly accessed from this view by clicking into the promo. Within the list, you'll be able to:
Customize the Date Range
Select the period of time you'd like to view promos within by clicking on the date range at the top of the page. From this pop up window you can customize your date range to see a list of promos for any specified time frame, using the criteria listed to the right or customizing the timeframe with dates from the calendar selector.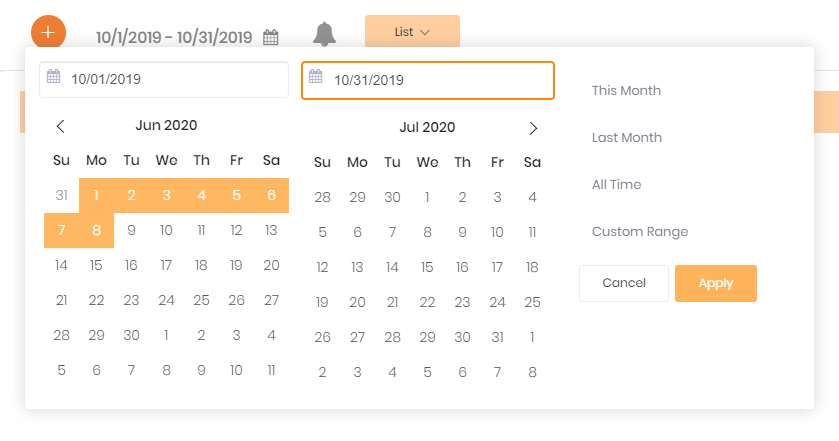 Once a date range is selected, click the Apply button to return a list of promos. Each promo will be represented via a row in the list view.
Sort & Scroll Through Available Promo Fields
Promos shown in the list view will include all fields within the promo record, displaying data where available. Depending on the number of promos within a list, you may see a scroll bar to the right of the list to access additional rows of data.
The list of promo rows can be sorted alphabetically or chronologically based on the Name and Date fields, by clicking on the field name:

The list view contains columns for the following fields: Name, Start Date, End Date, Channels, Categories, Filters, Type, Promo Code, Landing Page, and Files. To see these additional fields contained within the promo, use the scroll bar at the bottom of the page.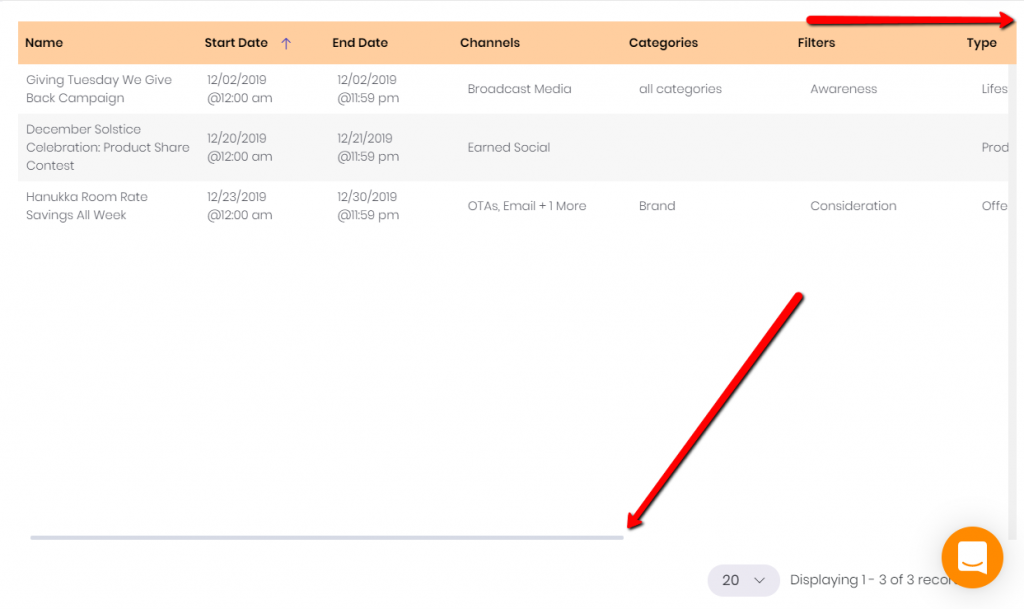 Note, promo fields displayed will be limited when using the "Compare" button.
Compare to Last Year
Should you toggle on the "Compare" button on the left side of your screen, the timeframe will change to display the selected week compared to the same week the prior year.
Add & Remove Filters
Add or remove filters groups to view only the promos of interest.

 Tip

Since the Holiday overlay is not available for use in the list view, be sure to plan for any holiday campaigns by adding a promo to your calendar prior to referencing the list view.