Marketing Planning Software for Teams
PromoPrep helps teams plan, share, communicate, alert and report on marketing and campaign activities. Organize your calendar in a single simple platform, designed for marketers just like you.
stay organized
Capture every detail
Track marketing campaigns & activities with start and end dates, times, promo codes, landing pages and whatever else your marketing team needs. Plus, add files and link to project management systems for additional organization.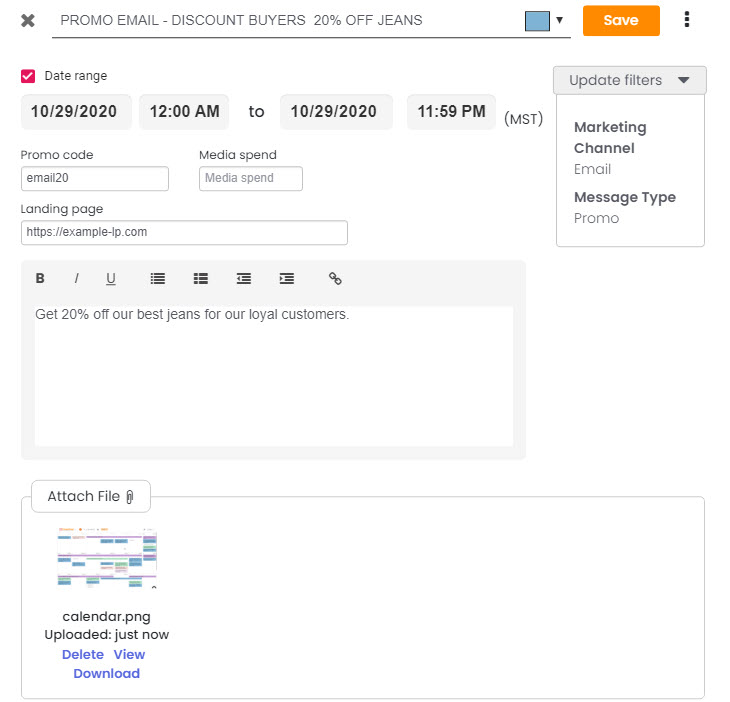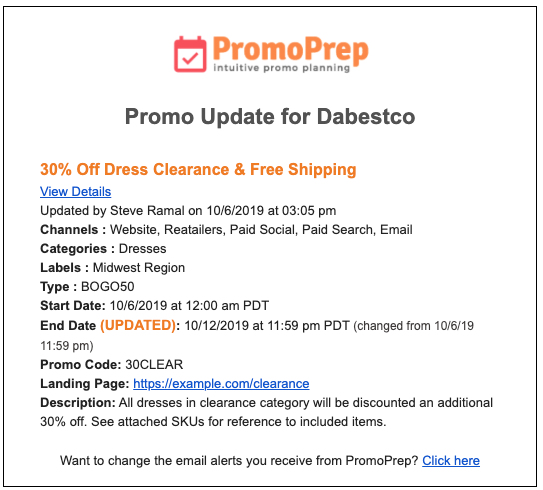 Never Miss a launch
Stay informed with alerts
Get real-time email alerts and platform notices when activities are added, updated, starting, or ending. No more manually sending updates or hoping for team alignment. With automated alerts, activities go live on time and without error, for one less marketing headache.
Communicate Effectively
Collaborate across teams
A successful campaign is a team effort. Get everyone aligned – stakeholders planning a marketing message, merchandisers adding product details, graphic designers uploading creative, or even agencies seeking updates for ad copy – with all communications in one location.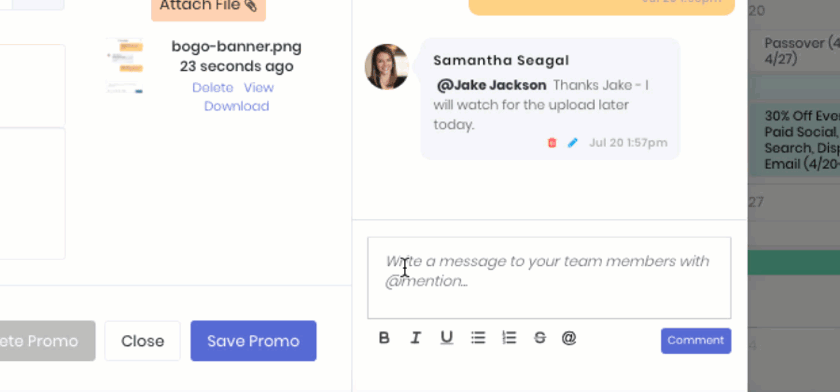 Stay Focused
Organize with labels
Assign your activities to customizable labels and filter your calendar. Create unlimited labels like marketing channels, product types and locations to match your business needs.
improve PLANNING
Plan to last year with a click
Need to anniversary last year's activities? No more jumping between old worksheets or manually copying past campaign details. With one-click you can overlay the prior year's activities onto this year's calendar for easy planning.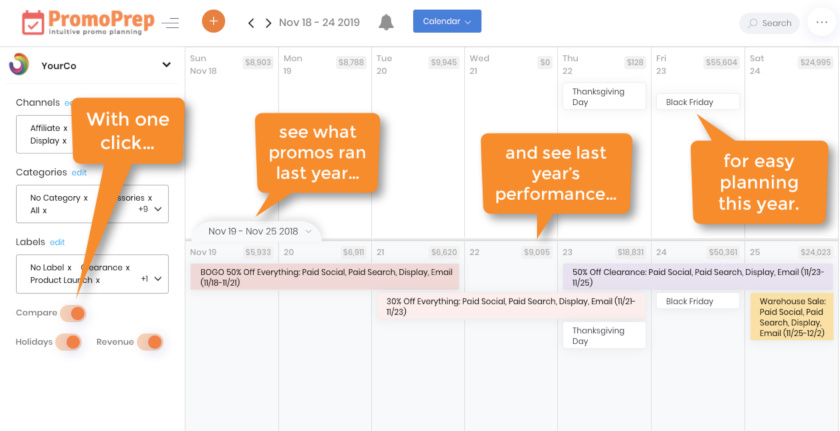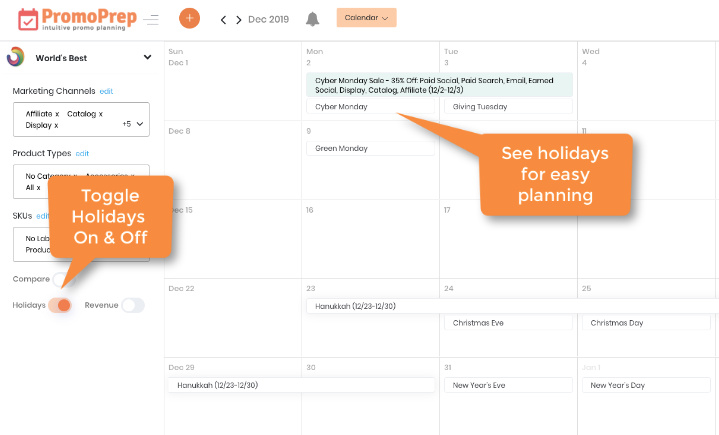 find messaging opportunities
View key holidays
Never miss an opportunity for promotion. Overlay key country-specific holidays in your calendar view with an easy to use toggle. Add new marketing messages based on dates that have meaning for your customers.
enhance the experience
Use calendar or list views
No more make-shift calendars or massive spreadsheet lists for your marketing and promotional activities. Easily switch between calendar and list view formats, without ever leaving PromoPrep.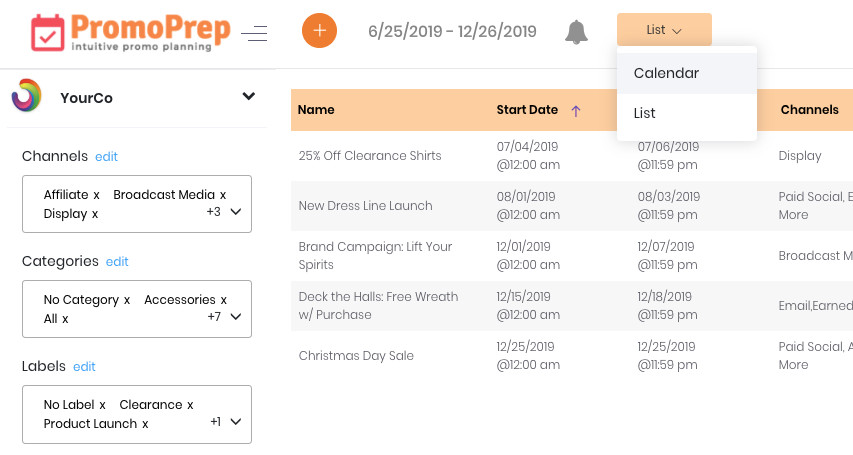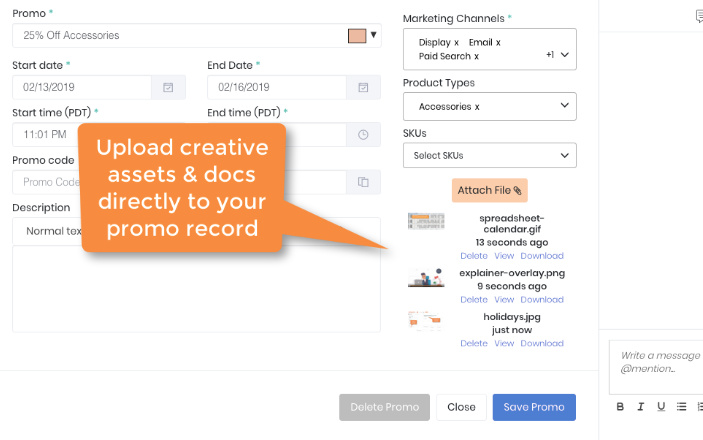 CONSOLIDATE COLLATERAL
Share file attachments
Keep every creative asset and document in one place. Add files in a PromoBuzz chat for tagged users to review, or attach finalized files to the promo record for all team members to reference.
GET MORE DONE, FASTER
Upload & download promos
Whether you're just getting started in PromoPrep or looking to up your game within 3rd party platforms like a data warehouse or BI tool – our upload and download functionality can help. Easily add past or upcoming promos and export existing ones, in bulk via CSV format.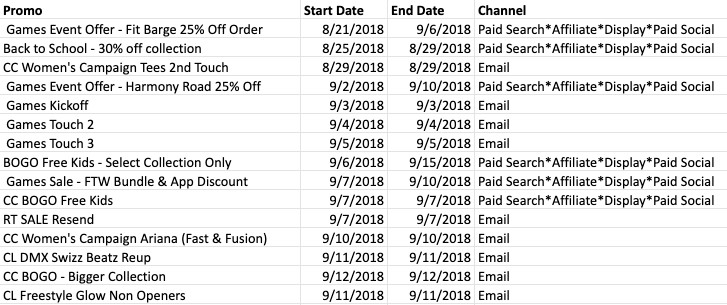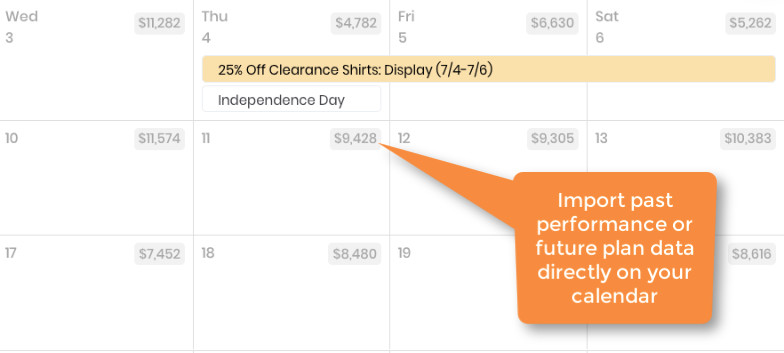 ANALYZE Performance
Import performance data 
View daily performance – whether revenue, sales, bookings, leads, or any other data point – directly in the calendar. Manually import plan and actual performance, or for eCommerce, auto import eCommerce actuals through our API connected platforms. Quickly analyze and adjust promos based on what's historically driven business.
CONTROL ACCESS
Set user level permissions
Ensure your fellow users have the correct content visibility and edit rights, with custom permissions. Specify who can view, chat, edit, and administrate on your PromoPrep account. Further control who sees what with options to restrict access to activities and performance data.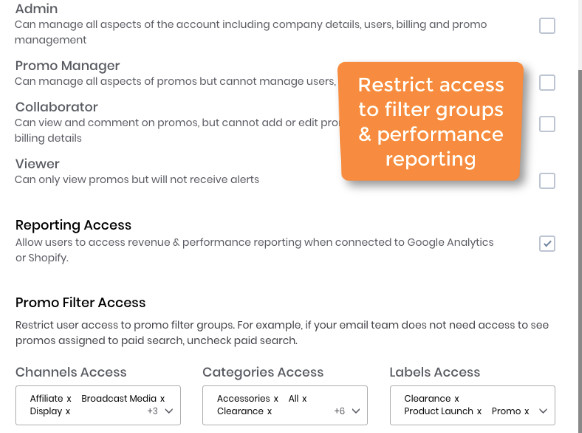 Get your team all on the same page.