Are you still managing your promo calendar in a spreadsheet?
Imagine planning your promotions in an online, fully interactive and intuitive calendar where teams are automatically notified as promos are updated, comparisons to last year are done with one-click, revenue is automatically imported for easy planning and everyone has real-time access from any device.
You'll think it's magic.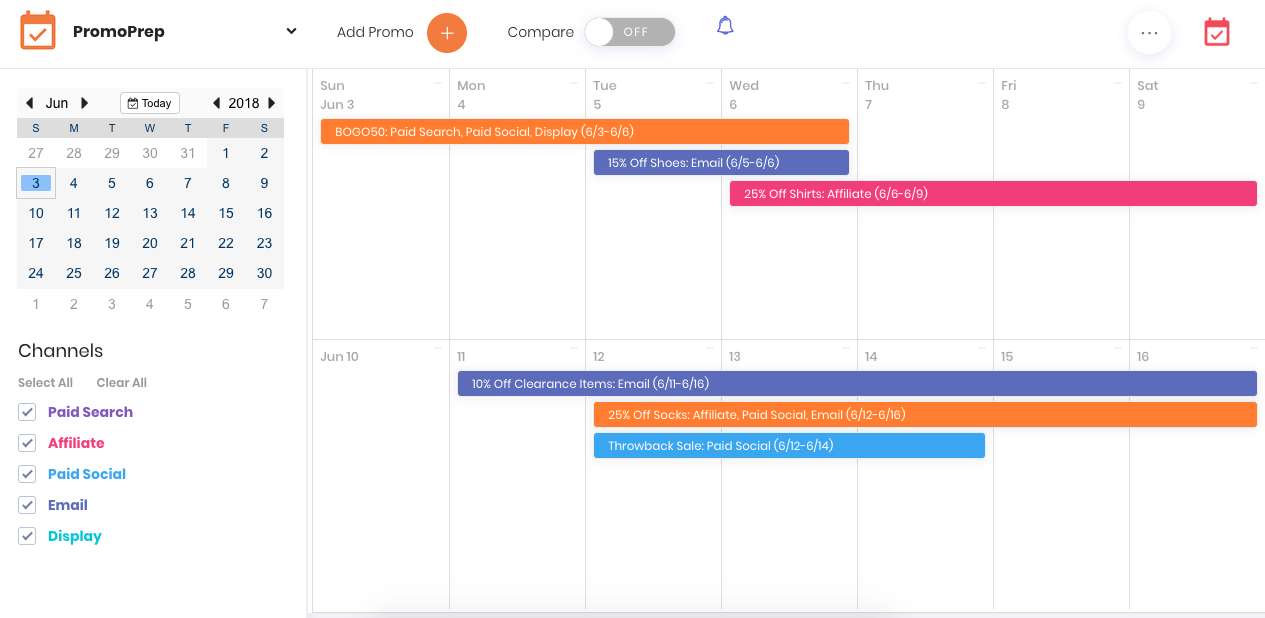 ecommerce promotion planning software
Turn spreadsheets into calendars
Promo calendars were never meant to be managed in spreadsheets. Plan your promos with an intuitive calendar and visualize your entire schedule.
more...
Many retailers are still using spreadsheets to manage their promotions. Every month, recreating a new worksheet, manually adding old promos and revenue from the previous year – then making updates multiple times per week and emailing the spreadsheet around to everyone that needs to adapt to the changes.
If this sounds familiar, we feel your pain. We have been on the receiving end of these promotion 'calendars' for years working in digital marketing.
So, we built a better solution to this cumbersome process, made exclusively for ecomm teams to simplify the promotion management process. Our solution is a calendar based web interface that is easier to work in and has amazing features that will make your work life (and those you work with) so much better.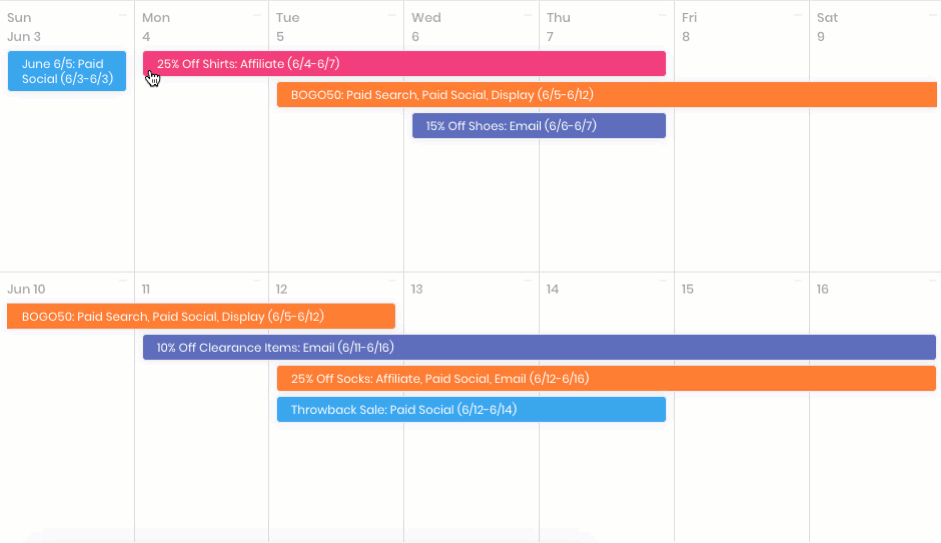 Plan to last year with one-click
Need to comp last year's promo? No more jumping between old worksheets or manually copying old promos. With one-click you can overlay last year's promos onto this year's calendar for super easy planning.
more...
With a click of a button, last year's promotion line up with the current week's promos. Think how easy this makes planning. Rather than someone copying the promos from the previous year to the current week, this functionality is built in.
You and your teams can reference old promos easily. Plus, if you need a reminder of what promos ran the previous year, with one-click you get all the details overlayed on this year's promos.
Keep teams informed with auto alerts
When promos are added, updated, starting and ending, alerts are recorded in PromoPrep and emails sent to your team. Everyone is kept up to date in real time. No more manually sending updates. Promos go live on time, everyone is happy.
more...
We love this feature because you don't need to send emails for every change and explain everything in an email. If a date changes, a notice is sent. If the promo type changes a notice is sent. If the promo code changes, a notice is sent… you get the picture.
Plus, alerts are sent before a promo starts or ends. Think how great this is – your teams don't have to rely on checking a spreadsheet or creating their own system to remember when promos are occurring. They have one place to go for every promo and everyone is updated in real time. And, they are less likely to forget to update, check or pause a promotion because alerts are sent automatically.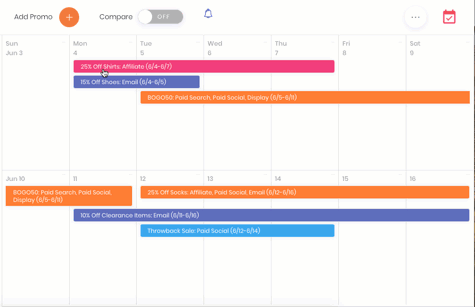 Track daily revenue for easy planning
Revenue is imported into your promo calendar, making planning extremely easy. Plus, you can import daily revenue targets so you can adjust promos to hit your goals.
more...
We make it easy to see how promotions are impacting revenue. With revenue imported daily, revenue is added to your calendar, making planning extremely easy.
As a bonus – if you have daily plan numbers, you can upload your daily revenue targets to see where you need to get more aggressive or pull back.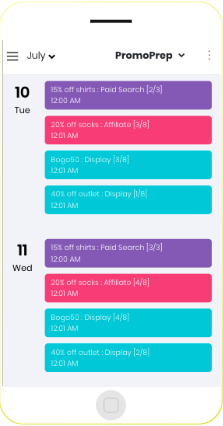 Manage promos from anywhere on any device
Get 24/7 real-time access to your promos on any device on a secure, cloud based connection.
more...
When managing an ecommerce website, keeping track of your promotions away from your computer is crucial.
So, we designed the promotion management system to give your entire team 24/7 access from anywhere on any device with a secure, cloud based connection.