When it comes to marketing and promotion planning software, there are hundreds of solutions on the market promising to get the job done.
But few deliver on that promise without making a mountain of more work for the marketing team.
How do you know what promotion planning tool is the right one for your team?
It's important to be able to separate the one-size-fits all solutions from the ones that actually solve your problem. To do that however, we must understand why this is so overwhelming in the first place.
Why is creating and managing a promotional calendar so hard?
In a nutshell, it comes down to the ever-changing nature of marketing itself – and the need to keep your finger on the pulse of what's happening in your business, while also executing in real-time.
Not only do you need to be super organized and on top of dates and details, promotional planning requires that you track:
Channels
Owners or team members assigned to the promotion tactic
Channel or distribution tactic
Graphics
Copy
And more!

"Since we started using PromoPrep, we've been able to share updates within our organization and with all our partners in one simple task. Using this platform has ended the days of messy email threads and redundant conversations about our promos."
Great marketers know they must be able to view their marketing calendar: what's happening this week, this month, and even further in advance.
The right tool can be the difference between sleeping peacefully at night and lying awake worrying that one of the spinning plates is going to fall.
Selecting a promotional planning tool: generic vs specific
If you're one of the marketers that feels this pain on a daily basis, you've likely searched for a promotion planning tool designed to make your life easier. And in that quest, you've likely stumbled upon generic and promotion-specific solutions.
The appeal of generic tools
Many teams gravitate toward generic tools and project management solutions at first, such as shared Google sheets, Dropbox, Basecamp, Trello or others.
These are often free or low-cost and seem like a good solution at the start. However, these tools can become complex rather quickly, or because they're generic, in order to use them for your specific use case, you'll need to navigate workarounds and integrations for maximum power.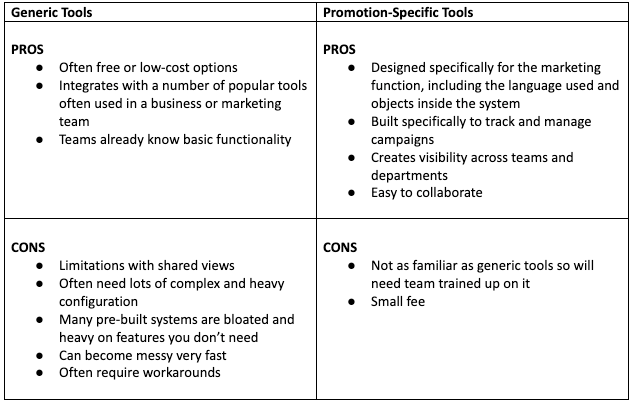 In our discussions with marketers, especially those on smaller teams, generic tools were "ok" but they didn't address the things they really needed help with: better visibility, collaboration, and an interactive calendar component.
The draw of promotion-specific planning tools
Especially for marketers who wear a lot of hats, the last thing you want to do is spend time configuring a complex project management system to make it work for your marketing calendar. That's where the beauty of a promotion-specific tool comes in.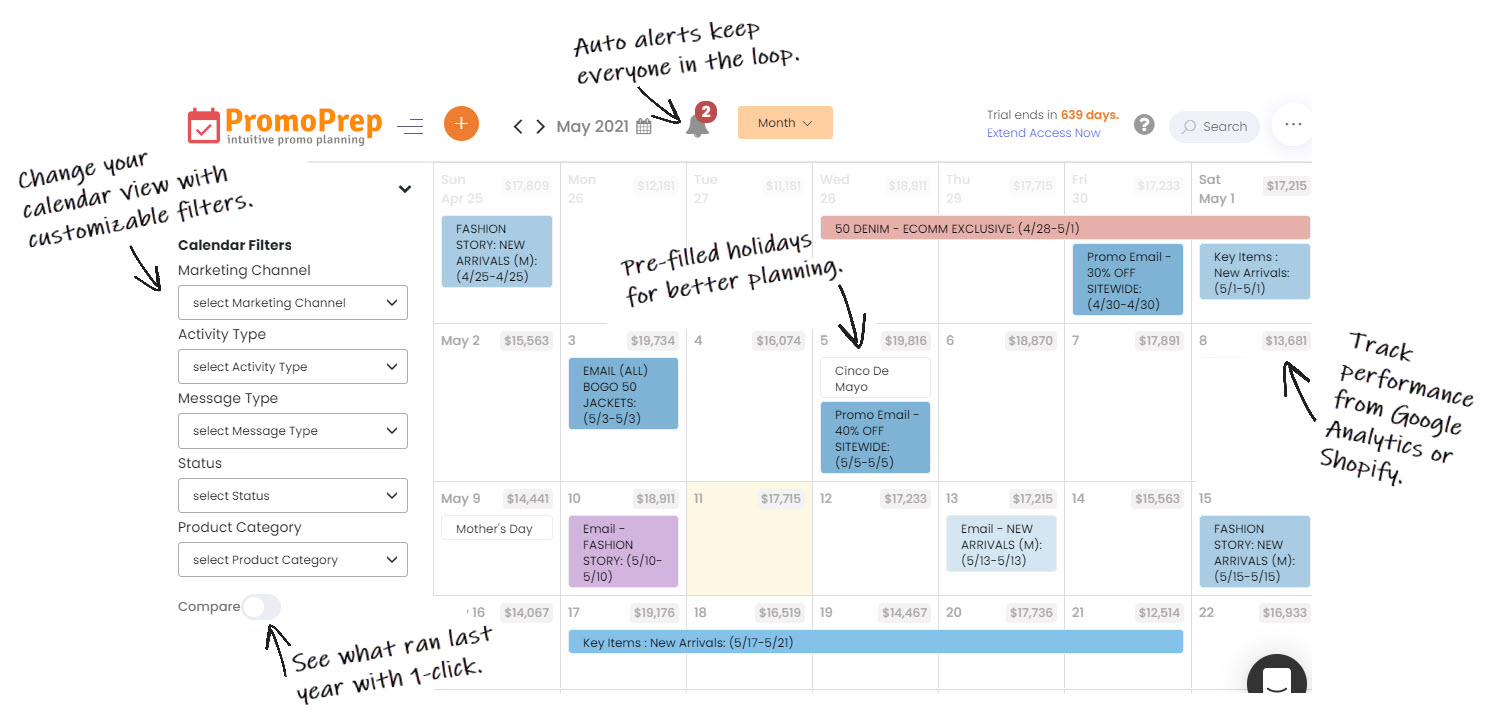 Author's note: This is the exact reason we created PromoPrep. The platform was made for marketers by marketers. We know what it's like to be faced with a mountain of goals and deadlines, and only a small amount of time we could dedicate to the planning and managing of the details.
Promotion planning tools like PromoPrep that are designed specifically for the purpose of marketing campaigns, make it possible to focus solely on the purpose of marketing campaign tracking and execution, and leave the unwanted features and bloat behind.
How to select the promotion planning tool for your team
If you've made the decision to say "no" to the generic solution and move in favor of specificity, you've made a great first step. But the next one is equally important.
Not all promotion planning software is created alike.
Many of the tools on the market will boast the ability to track and manage campaigns, but layer in additional features like forecasting, ROI, artificial intelligence and more.
The more features you add into the solution, the more complex it gets, and the higher the price goes. If you're not careful, the very situation you were trying to avoid in the generic tools becomes a reality once again.
To avoid this, we believe an effective promotion planning tool should be:
1. Easy to use
We've been conditioned to gravitate toward solutions that are intuitive and easy to use – and for good reason. When a solution is simple and straightforward, the adoption rate increases substantially and you begin to see ROI from the tool almost immediately.
If the very problem you're trying to solve (planning your promotional campaigns) becomes even more complex once you've selected a tool, it's a sign you need to keep looking.
[Can we embed a video here that you already have showing how easy it is? Or a gif that is someone setting up their first campaign]
2. Specific to the key problem you're trying to solve
Know what problem you're trying to solve. This means narrowing down what you want your tool to do best. Many people buy software tools that are mediocre at a little of everything, and then end up disappointed by the return on their time and money. In the case of selecting a promotion planning tool, it's important ask yourself things like:
Am I trying to collaborate more effectively with my team?
Am I hoping to see everything in a calendar view?
Do I need a better way to measure ROI?
Am I really trying to get better at forecasting?
Many of the tools on the market are focused on the forecasting piece – and from what we've seen with marketers who use PromoPrep, they really need the planning and visibility piece without all the fluff. And that's why they use the platform!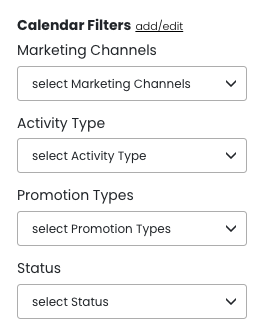 Note: PromoPrep allows you to sync Google Analytics and Shopify to track and effectiveness of campaigns as well. However, as mentioned above, what problem most are hoping to solve is the communication and visualization of the promotions themselves!
3. Flexible
Marketing calendars and promotions can change on a moments' notice. It's important that the tool you select can flex and adapt to moving timelines, milestones, promotion owners, and more. With PromoPrep, we've built in drag and drop functionality so it's easy for you to move a campaign forward and not have to completely redo your planning due to a small hiccup.
While some systems promote flexibility, you'll want to make sure to test and demo this to see if their definition of flexible is the same as yours.
Taking the next step in your promotion planning
If you've decided to move forward toward a specific solution for your team, we invite you to explore PromoPrep. Or, if you're currently using a generic solution and wondering how it might manifest inside of the tool, let us know and we can set up a custom demo for you.
Regardless of the direction you choose, we hope that you'll find the best fit for your team that enables you to focus less on what's happening and where, and more on converting customers and sales to grow your company!