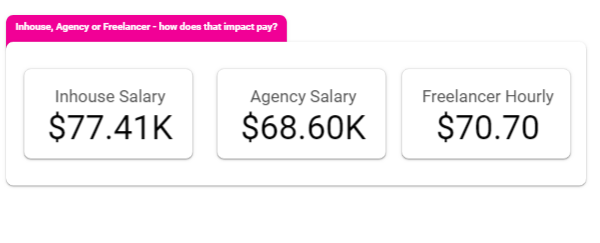 We are updating the survey in January 2022. If you would like to be notified when it goes live – sign up here.
We polled over 450 marketing professionals to understand how marketers get paid. From inhouse to agency to freelancers – see how you stack up against others in marketing.
Special thanks to all the folks at The Daily Carnage and their community of marketers – if you are a marketer and have not subscribed to this newsletter and joined the fabulous Facebook Group, you should. It's super active with marketers supporting each other by answering lots of marketing related questions. Plus, some plain ol' fun marketing gaffes.
Marketing job functions were broken out as follows:
Multiple Channels – oversees many channels including ppc, social, email, print etc – basically if you work in many channels, you were placed in this bucket
Content/Social – there was a ton of overlap in folks writing content and using social or email as a channel to push the content. You were put here if you mostly focused in this space, but didn't touch other channels.
Supervision – if you don't focus on execution, but more on overseeing people, you fell into this bucket
Account Management – for agency folks that were not executing, but overseeing strategy and working with internal teams and clients
Creative – the folks that make our world a bit more interesting with pictures – you know who you are.
Data/Analysis – the data geeks who spend their time in spreadsheets and providing insights (I tend to fall into this one)
Here are a few marketing salary highlights from the respondents:
In-house marketers make 13% more than agency ($8K)
There is a big jump in salary based on experience level: 10+ year folks make 29% ($25K) more than 5-10 year folks, and 5-10 year folks make 35% ($21K) more than 3-5 years.
Job function makes a big difference in salary with folks working across multiple channels making 25% ($17K) more than those focused on content/social.
If you have any questions about the data – feel free to reach out to me on LinkedIn and don't forget to share with other marketers.
We are updating the survey in January 2022. If you would like to be notified when it goes live – sign up here.
**Viewing on desktop allows you to use filters to adjust the charts**