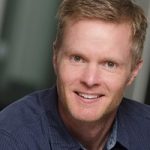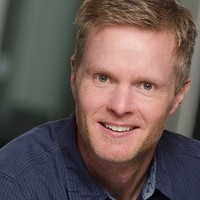 There are few things worse in marketing than being disorganized. With so many moving parts across multiple channels and teams, disorganization slows things down, causes errors and keeps marketing from launching on time.
Getting organized is easier with a centralized marketing calendar to capture everything your marketing team has going on.
Here's  a rundown of what we'll cover:
What's a marketing calendar?
A marketing calendar is the best way to organize marketing campaigns, activities and promotions in a centralized place.
It provides the roadmap for your organization's marketing activities and is the source of truth for your entire organization. Because marketing is so vital to every business, the marketing calendar is the guiding behind critical decisions being made.
The best marketing calendars provide both a high level look at what is going on as well as specific details for your team to execute your marketing.
Marketing calendars work best when shared with everyone in your organization as well as partners outside your organization. This keeps everyone on the same page and in sync.
Here's a look at a marketing calendar built in PromoPrep: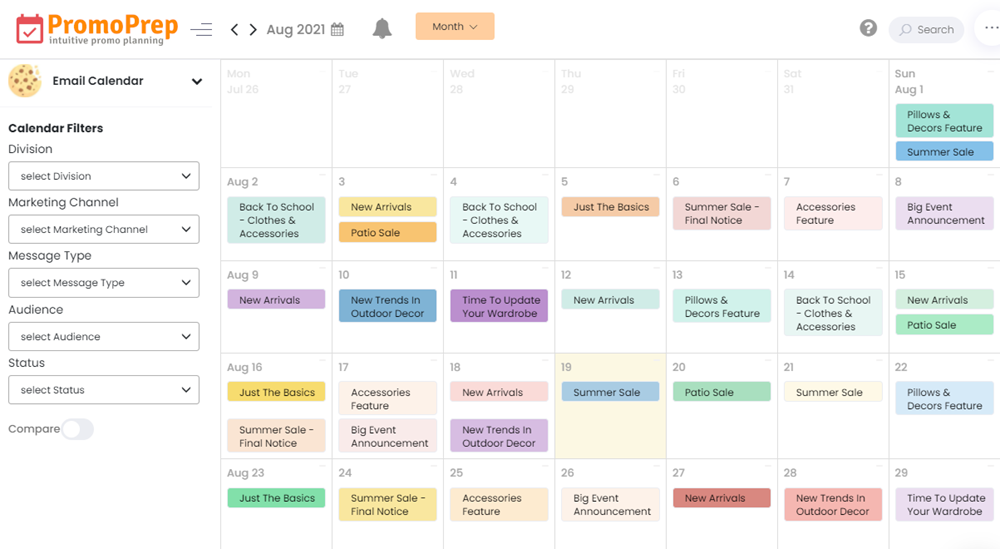 What should go on a marketing calendar?
Your marketing calendar should answer the 6 W's: What, who, where, when, why and how.
This provides answers to every question regarding your marketing activities including:
What message is being shared with your audience?
Are you pushing a weekly newsletter, promoting a sale, launching a new product line? Whatever you're promoting, all these details should be captured in your marketing calendar.
Don't skimp on details – be sure to include subject lines, body copy, headlines, descriptions, disclaimers – every detail your teams needs to execute effectively.
The best marketing calendars not only include messages that will be pushed out to your audience, but also the messages that will change on your website. If you are launching a new promotion, include the website updates that need to be made so nothing is missed at launch.
What about blog posts or other long form content? Include this on your marketing calendar as well so everyone knows everything that is being worked on.
PromoPrep makes capturing, organizing and sharing all of this data extremely easy: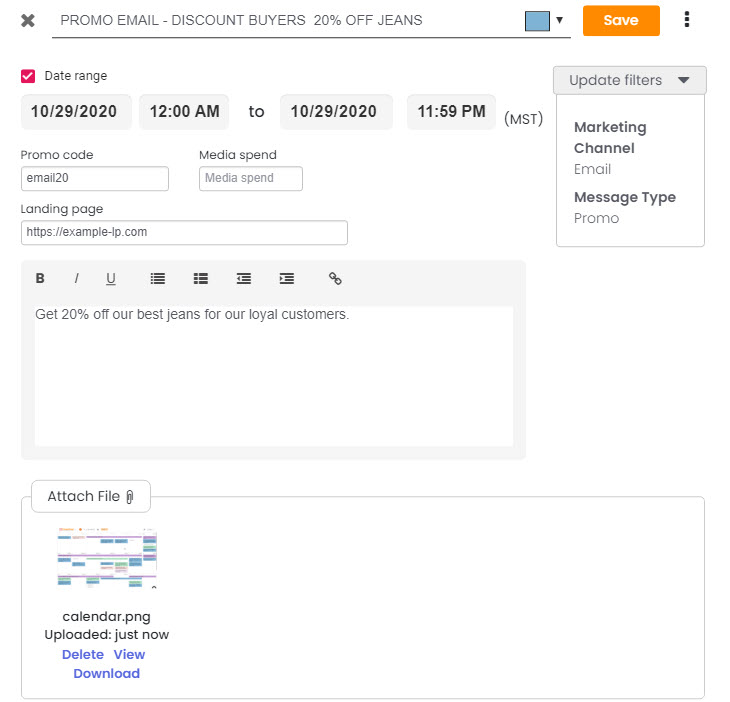 Who are you targeting in your marketing?
Segmenting your marketing by target audience provides a clear picture of who is receiving your marketing messages.
For instance, are you targeting new or existing customers? Include this detail on your calendar so it's clear to your team who is receiving  the messages.
Who's in charge of executing your marketing?
The most effective marketing calendars specify the team or individual that needs to execute the marketing activities.
For example, if your email team needs to send an email on a particular day there should be no doubt who is responsible for preparing and sending the email.
Where will the marketing be pushed – what channels are being used to execute your marketing?
Marketing calendars should be a holistic look at everything running across every channel.
Many organizations make the mistake of having multiple calendars for each channel. This makes it extremely difficult to understand the big picture.
Including every channel across your calendar will help your team know how each channel is supporting the overall marketing message.
When should your marketing go live?
Having a clear understanding of what should launch when is critical. Keeping your team in sync will reduce confusion.
Many times team members are left out of the communication process,  details are missed, and activities are not launched on time.
Having a marketing calendar with clear start and end dates and times ensures there is no doubt when marketing activities should go live.
Sending alerts when your marketing goes live is an even better way to keep your team synced. Platforms like PromoPrep make this easy.
How do I create a marketing calendar?
Marketing calendars take on many different formats and can be built in many different ways. Here are a few types of marketing calendar formats to consider:
PromoPrep or other marketing calendar software: There are several marketing calendar tools built specifically to track marketing activities. There are definite advantages to using tools like PromoPrep to manage your marketing calendar including easy collaboration, user friendly interfaces and 'turn-key' usability which means easier team adoption of the tool.
Spreadsheets (Excel/Google Sheets) : Spreadsheets rank up there as one of the most common forms of marketing calendars. They are flexible and can be customized anyway you want. This is good for uncomplicated calendars where you are not tracking a lot of channels and activities. However, spreadsheets can get overwhelming and hard to follow if not set up correctly.
Outlook & Google Calendar : A great alternative to platforms and spreadsheets is using a calendar like Outlook or Google. You can set up a separate calendar from your personal calendar and create events and tasks to track your marketing activities. You can also share these calendars with your team. They are not as flexible, but they do give you a nice format to work with.
What is the purpose of a marketing calendar?
The primary purpose of a marketing calendar is to keep track of all your marketing in one place to keep everyone in the loop.
It is used as a planning and tracking tool so anyone that needs to know what is happening across your marketing has easy access in real time.
The best marketing calendars make it easy for you and your team to plan by providing access to historical marketing activities, relevant holidays and performance data.
The marketing calendar provides every detail about your marketing activities and is the roadmap for your team.
Build the ultimate marketing calendar
Now that you have the foundation for building a marketing calendar, you can get started using PromoPrep's marketing calendar platform.
We have a free version for individuals to use as long as you need, for free!