Marketing calendars – content calendars – promo calendars – whatever you call them – they're a must for marketing teams to stay organized.
But, finding the best marketing calendar software tool to help plan and track your marketing campaigns isn't easy.
There are so many ways to create marketing calendars, but using software specifically designed to plan your marketing activities, collaborate with your team and easily visualize helps things from falling through the cracks.
Knowing when marketing activities are launching, what channels are supporting, what audience is being targeted and what copy and creative is being used is all essential to managing effective marketing.
Many of the tools advertised as marketing calendars are actually project management tools with 'some' calendar functionality.
I covered some of these, but wanted to give a good mix of the options.
The 5 best marketing calendar software tools for teams:
PromoPrep is the most intuitive tool for easy team adoption
CoSchedule is the best for posting to content platforms
Airtable is great for technical folks who like control over every detail and datapoint
Asana is good if you really want a project management tool (with 'some' calendar capabilities)
Spreadsheets (Google Sheets/Excel) are good for uncomplicated calendars
***Disclaimer***
I'm the founder of PromoPrep. I did my best to give an honest rundown of some of the top marketing calendar software tools available.
My goal is to educate you so you can make the best decision for your needs.
#1
PromoPrep

is the most intuitive marketing calendar software tool for easy team adoption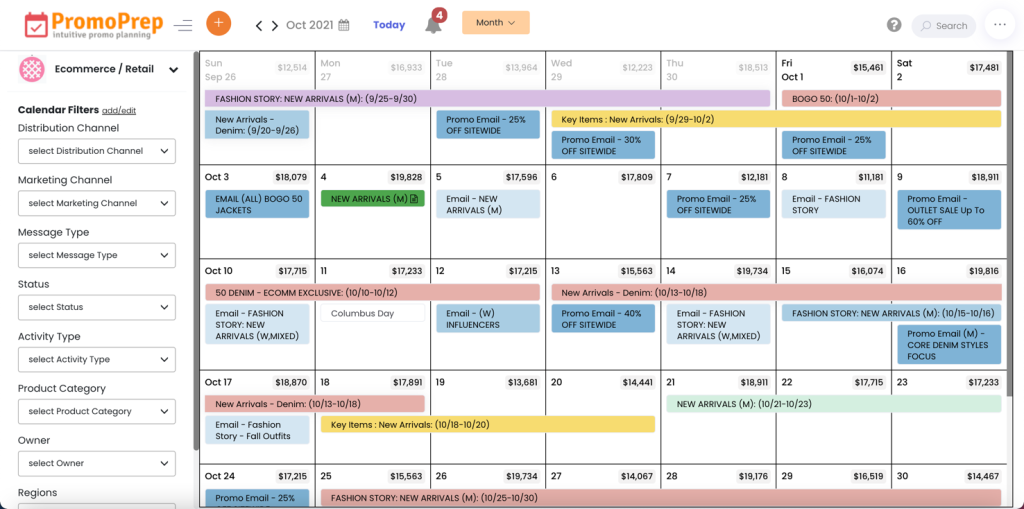 PromoPrep's strength is in its simplicity – not trying to be an all-in-one, do everything tool.
Unlike other 'marketing calendars' built into project management tools, PromoPrep is a calendar at its core.
That means it's visual and familiar, needs very little training and teams can adopt it very quickly.
PromoPrep is infinitely configurable for any team – whether you're in ecomm, non-profit, B2B or even a local car wash, you can set it up to suit your exact needs.
For instance, if you are an ecomm brand, organize by marketing channel, message type & audience. Easily change the view of your calendar to only see only what you need to see.
Email alerts are sent to your team when activities are added, deleted, updated, starting and ending – so everyone always knows what's going on and nothing falls through the cracks.
PromoPrep also has major holidays pre-filled and there is a one-click comparison to stack last year's calendar over this year's for easier planning. Learn all about PromoPrep features.
PromoPrep Pricing:
PromoPrep has a free plan for individuals. There are no feature restrictions or time limits either. So, you can use it as long as you want for free.
Once you add a team member, you get a 14 day trial so your team has time to try it out. Plans start at $39/mo for 3 user, $69/mo for 10 users and $99/mo for 20 users (other plans are available for larger teams).
#2
CoSchedule

is the best marketing calendar tool for posting to content platforms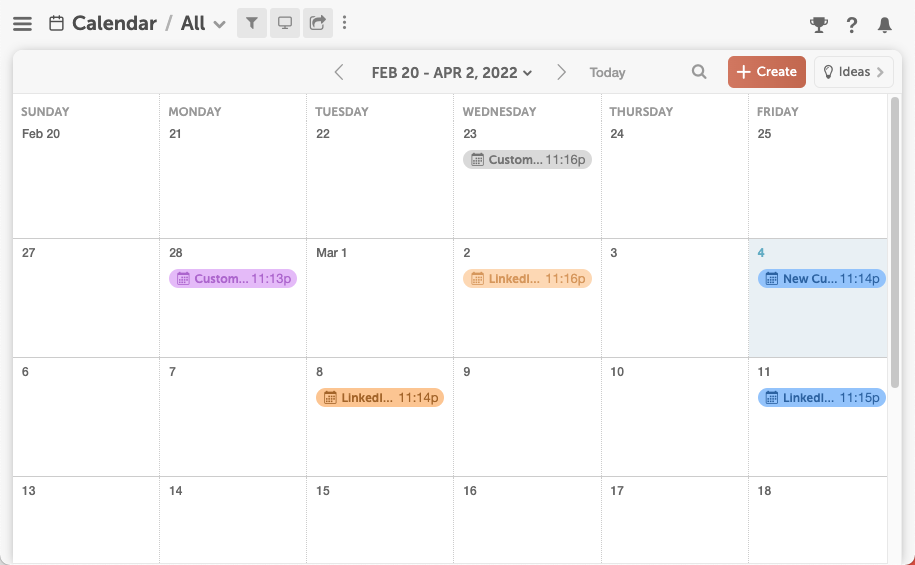 CoSchedule is a work management and marketing calendar tool designed for marketing teams (with a slant toward content creation).
At the backbone of CoSchedule is its ability to connect to multiple platforms to push content. You can use CoSchedule to post to social channels like Facebook and Twitter and also create content in places like WordPress, MailChimp and HubSpot.
You can create tasks assigned to projects which become visible on the calendar.
Your calendar can be organized into project types (blog posts, infographics, brochures, etc), color labels (departments, content themes, clients, etc.) and tags (think target audiences, content themes, etc).
Similar to PromoPrep, you can create different views of your calendar to segment only what you want to see – which is a nice feature.
Unlike PromoPrep CoSchedule won't let you create cross-channel marketing calendars. There is little flexibility outside blog posts, email and social posting.
Getting started with CoSchedule can be a little overwhelming depending on how you worked with marketing calendar tools in the past. There are helpful onboarding guides, but doing simple things like creating color labels to organize your calendar is not straightforward.
CoSchedule is a solid choice if you want a tool to plan and execute your content across social and content platforms. But, it is only good for smaller teams as there is a limit of 10 users per account for the marketing calendar.
CoSchedule Price:
There is a free version of CoSchedule's marketing calendar with limited functionality. They do not highlight this on the site, so it is difficult to compare the free version vs paid version, but they offer this option after your free trial ends.
Paid plans start at $39/user/month which gives you unlimited marketing projects. There are thirteen platforms you can connect to in order to automate some of your marketing activities.
One interesting thing to note – there is a max of 10 users that can be added to the marketing calendar. This can be limiting for larger teams. They have a Marketing Suite platform that may have different limits on users, but they do not publish pricing for this tool.
#3
Airtable

is the best marketing calendar software for technical folks who like control over every detail and datapoint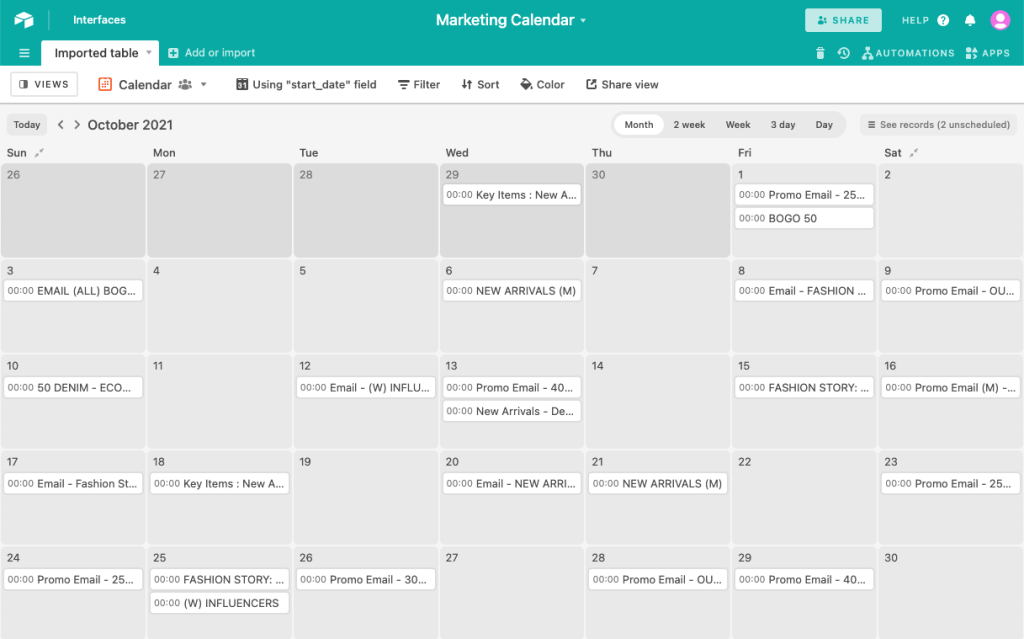 At its core Airtable is a relational database making it a very robust solution for tracking many data points. It makes working with databases accessible for everyday folks. Although the interface is similar to a spreadsheet, it has many more capabilities.
For marketers, Airtable has a variety of templates to build content calendars, email calendars, event calendars and social media calendars making it a powerful option.
Airtable is broken into 'bases'. Think of a base as an Excel workbook and the tables the worksheets contained within the workbook with the rows and columns.
I found this great tweet from Hannah Wiginton who broke down how she's using Airtable in a very effective way for her marketing calendar: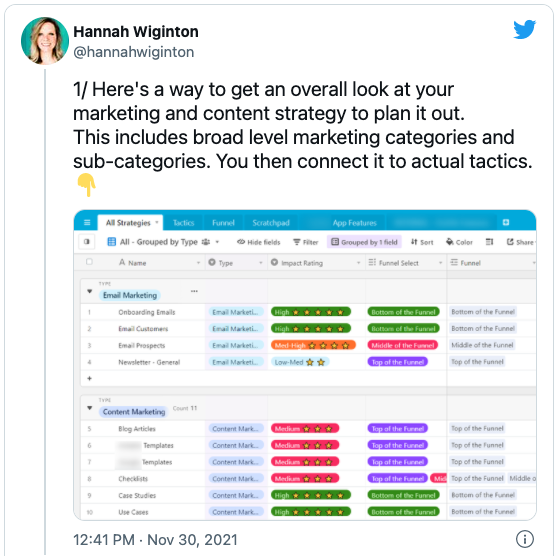 If you love working in spreadsheets, Airtable will seem pretty familiar. But, you don't have to view your marketing calendar as a flat grid—you can also view it as a calendar.
Airtable has a lot of pluses in its flexibility, but it can be a bit overwhelming to get set up and organized. It is geared towards technical users and can take some effort to get oriented and organized. This may make it difficult for team adoption due to its complexity.
Airtable Price:
Airtable has a free plan for up to 5 users, which includes up to 1,200 records per 'base'. If you have a small team, you can probably get away with the free plan for some time. As your team expands, you'll pay $10/mo per user for the Plus plan and $20/mo for the Pro plan. The paid plans give you more rows of data in each base and different views of your data (ie: Gantt charts).
#4
Asana

is the best marketing calendar tool if you really want a project management tool (with 'some' calendar capabilities)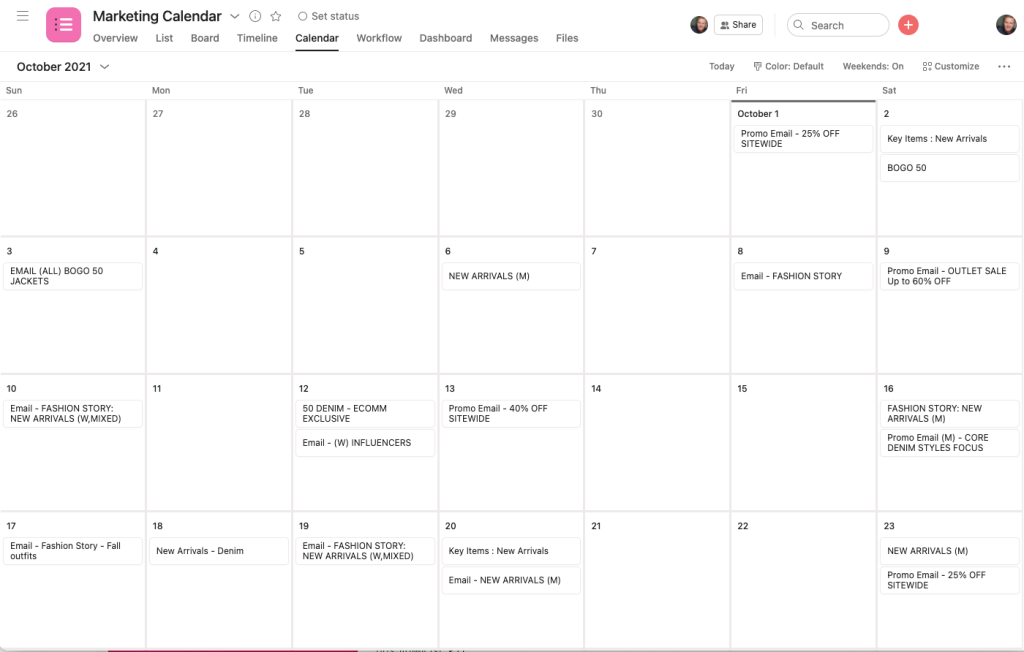 I am including Asana in this list, because it does have a calendar view, they do advertise as being a marketing calendar, and some marketing teams use it as a calendar – but it's not a great choice.
I don't say this because they're a competitor – heck this whole post focuses on competitors and we've been using Asana for project management for over 4 years. It just isn't very flexible as a marketing calendar.
At its core, Asana is a project and task management tool – and it does that very well. You can create lists of tasks with due dates, assign tasks to teammates and have multiple ways of viewing your tasks.
Although Asana is a very powerful project management tool (we use it at PromoPrep for project management), it takes some adjustments to use as a marketing calendar.
Because everything is task based in Asana – this is great for project management, but makes it challenging to organize tasks into marketing activities, campaigns and promotions.
Every task shows up in the same list, even if it is from the past. The only way to remove old activities from your task list is to complete the tasks – which makes it very challenging to look back at past marketing activities when planning.
Although Asana is a project and task management tool, plenty of marketers use it for their marketing calendar. If you are looking for a complex
Asana Pricing:
Asana has a free plan with up to 15 users. You get three views of your projects including list, board and calendar views. You cannot add custom fields or assign tasks to 'channels' which makes it difficult to organize your calendar.
The free plan does not allow you to add organize your when it comes to creating an effective marketing calendar. For instance, you can only add a task name, due date and description.
The paid plans start at $13.49/user/mo.
#5
Spreadsheets (Google Sheets/Excel)

are good for uncomplicated calendars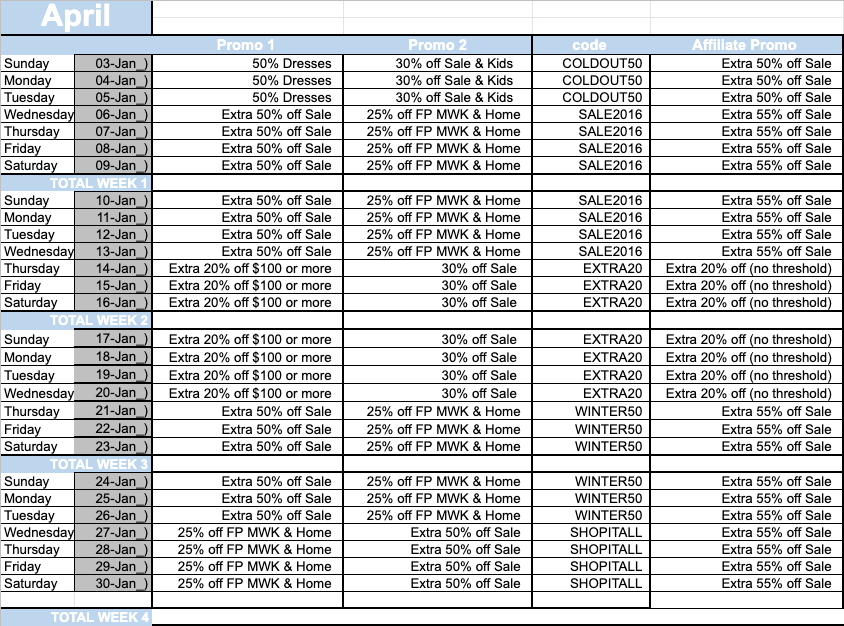 I can't say I endorse using spreadsheets to manage your marketing calendar – but many marketers use them successfully.
In fact, I used them for years before we created PromoPrep – they are good in some cases – usually for single channel programs with little complexity.
Spreadsheets can be good for marketing calendars because they're flexible and are easy to adjust. You have complete control on how you want to manipulate your data. Plus, you get the added bonus of using the spreadsheet to track metrics, like marketing performance.
However, spreadsheets used as marketing calendars have many downsides – particularly for larger teams with complex campaigns running across multiple channels.
Most marketing calendars in spreadsheets are organized in columns across the top to indicate channels and rows become the dates the activities are running.
With simple marketing calendars, this is relatively easy to manage. I've even seen teams create a mock calendar grid within their spreadsheet to better visualize the days of the week, like this – but it leaves little room for details: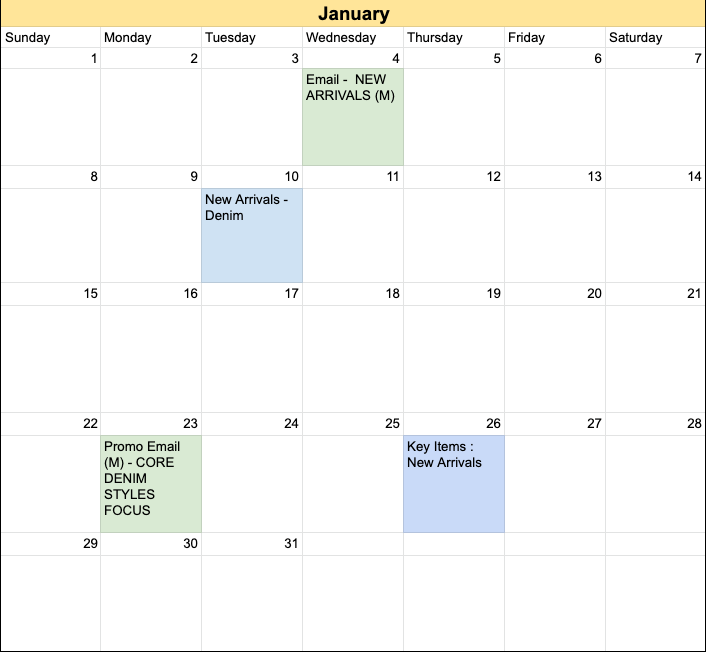 Pricing:
Google Sheets is free and integrates with other Google Workspace applications easily. Microsoft Excel comes packaged with Microsoft Office Suite and is standard in many businesses.
This makes either of these options the go to for most marketing teams when getting started building their marketing calendars.
That wraps it up – I hope you found this helpful. If you have any questions, please don't hesitate to reach out.