Plans & Payments
Find the plan features and payment terms that are right for your business.
There are two plans available – Starter and Premium. The Starter plan has limited functionality and allows for one user. The Premium plan provides all the features of PromoPrep and unlimited users.
To get started, select the plan type that gives you the number of users and platform functionality needed for your account.
Plan Types & Selection
PromoPrep offers two types of plans, Premium and Starter. The following chart illustrates options available within each:
| | | |
| --- | --- | --- |
| What's Included | Premium Plan | Starter Plan |
| Users | Unlimited | One |
| Help Desk Support | Email & Chat | Chat Only |
| Platform Training Calls | Yes | No |
| Promo Fields | All | All |
| Compare Year Over Year | Yes | Yes |
| Calendar & List View | Yes | Yes |
| User Level Permissions | Yes | Yes |
| Email & In-Platform Alerts | Yes | Yes |
| Date & Day of Week Formatting | Yes | Yes |
| In-Platform Search | Yes | Yes |
| Filter Groups | Up to Four | Up to Two |
| Customizable Filter Names | Yes | No |
| Importing Promos | Yes | No |
| Downloading Promos | Yes | No |
| PromoBuzz Team Messaging | Yes | No |
| Key Holidays Calendar Overlay | Yes | No |
| File Attachments in Promos | Yes | No |
| Printable Calendar | Yes | No |
| Performance Report | Yes | No |
| Daily Performance Calendar Overlay | Yes | No |
| Google Analytics Performance Integration | Yes | No |
| Shopify Performance Integration | Yes | No |
| Manual Performance Data Upload | Yes | No |
Plan selection is made during the account set-up process, via the pricing page.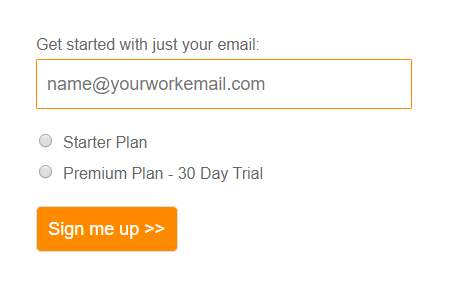 You will receive an email after your wesbite signup to start the account creation process. For more information on these steps, see our Help Center article on Account Set-Up.
Changing Your Plan
Starter plans can be upgraded to Premium within the PromoPrep platform, and will automatically be opted into the 30 day free trial with no credit card required. If you wish to upgrade, an admin user can log into the account and click on "Start Free Premium Trial" from the top right navigation.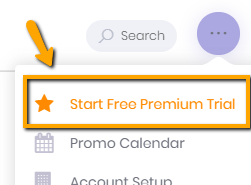 Once the 30 day trial is complete, or at any time during the trial period, you may choose to extend access to the Premium plan. To do so, click extend access or navigate to the billing tab under "Account Setup".

From the Billing tab you will be able to complete your company's payment information and preferred payment cadence. More on payment is outlined in the subsequent sections.
Downgrade to Starter
If you would like to from a Premium to Starter plan, please inquire with our support team.
 Tip

Looking for a solution for multiple brands or parent-child accounts? We offer enterprise plans and custom development support for holding companies, advertising agencies, and other businesses with more complex marketing calendar requirements. Contact us or message our support staff in the chat window in the bottom right of the screen to get more information.
Payment Setup
Additional information is required to set up payment for Premium plans, immediately following or at any time during the 30 trial period.
To upgrade account access beyond the free trial period, click the "Extend Access Now" link visible at the top right of your screen or visit the "Billing" tab under Account Set-up.
Add the credit card information under Payment Details, and corresponding card holder information under Billing Info.
Next, select a plan with the preferred frequency of either pre-pay annual or pre-pay month billing. If you have discount, such as a refer-a-friend offer, add your promo code at this stage. Your plan billing amount and any applicable taxes will display in this window.
Click submit once confirming all information appears correctly on the page.