Intuitive Planning for Marketing Teams in Ecomm
Replace your confusing spreadsheets with an intuitive calendar built for marketing teams. Plan every marketing campaign, activity & promotion in one place.
10% OFF for EcommerceTech Partners
Improving Marketing Planning at:




An Intuitive Way to Plan and Track
Marketing Campaigns, Activities and Promotions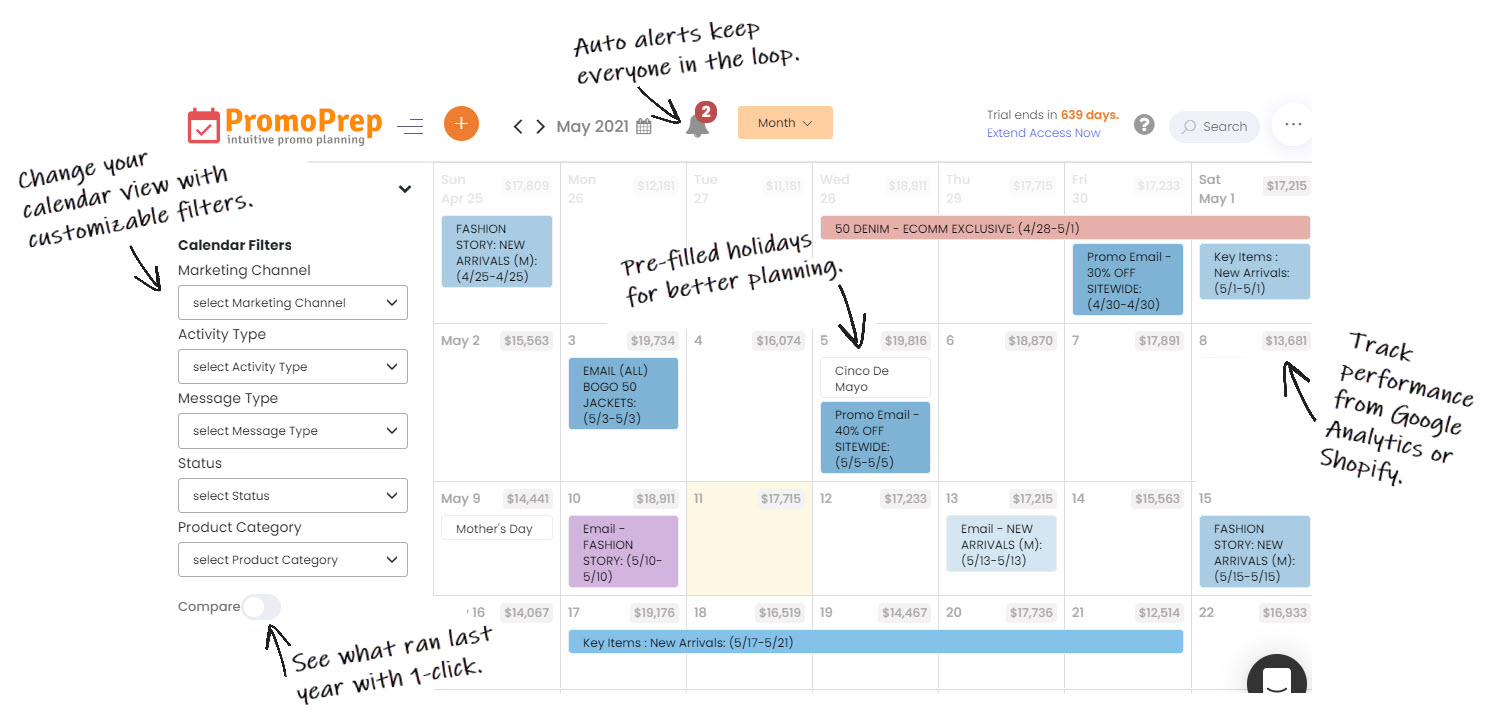 Import performance data into your calendar from:

No More Disorganized Spreadsheets and Disjointed Tools
Say goodbye to frustrating planning spreadsheets, disconnected email chains and untracked team communications.
Consolidate everything you need in a single, easy-to-use marketing calendar.

"Since we started using PromoPrep, we've been able to share updates within our organization and with all our partners in one simple task. Using this platform has ended the days of messy email threads and redundant conversations about our promos."
Access Every Feature
Automated alerts  
Automated alerts are sent when activities update.

Creative asset management  
Upload banners and videos and keep creative asset attached activities.
Performance tracking  
Connect to Google Analytics or Shopify and see performance directly on your calendar.

Team messaging  
Keep everyone in the loop with team messages connected to every activity.
One-click YOY comparison  
See what ran last year overlaid on this year's calendar for easy planning.

Unlimited labels & fields  Customize your activity forms and organize your calendar anyway you need.

Historical activity import  
Import historical activities to track what ran in the past.
Intuitive planning for your entire team
Plan all your marketing in a calendar built specifically for marketing teams.
Super-fast support
Get personalized training and quick support over chat or email.
Easy cancellation
End your subscription anytime, online. No phone call required.
Start with your FREE account
Give it a try – see how you like it.
Access every feature.
Add your team when you're ready.

Here's a look at pricing
(when you're ready to add your team)

Monthly
Monthly
Yearly
Yearly
$0/mo
Billed Yearly – 2 Months Free
10% OFF for Ecommerce Tech Partners
Learn how to customize PromoPrep for your team.
Get a FREE demo from our PromoPrep experts.
Marketing planning is easy and more intuitive with these great features:
Intuitive Interface
See your marketing activities and promos in an intuitive calendar.
Organize
Unlimited labels & categories to keep campaigns organized.
Automated Alerts
Get email alerts when activities change, start or end.
YOY Comparison
Quickly see promos that ran last year for easy planning.
Historical Import
Upload past & upcoming promos for easy access to all your activities.
Team Messaging
Keep your team up to date on activity details with team messaging.
Holiday Planning
See major holidays on your calendar for easy planning.
File Sharing
Attach promo assets like creative images and planning docs. 
Sales Tracking
See daily performance data from Google Analytics or Shopify.
User Permissions
Control what users can and can't see with activity label permissions.
Mobile Friendly
Access your calendar from anywhere from any device.
Plan Upload
Import daily revenue plan data to see where to add campaigns.
...into marketing calendars
Built Specifically for Marketers
PromoPrep gets everyone on the same page. Include your marketing, product and creative teams (plus agencies and executives) for more efficient planning.
It's built for marketers by marketers.
Teams of all sizes love PromoPrep.
One location to efficiently manage marketing campaigns and projects.
Built-in collaboration tools like real-time alerts, in-platform messaging and file sharing.
Smart features like year-over-year calendar comparisons and data integration.
"We significantly reduced the time we used to spend communicating and explaining each promotion to the team."

Cyntia Candelas
Corporate Ecommerce Manager, RCD Hotels